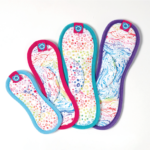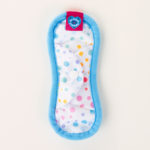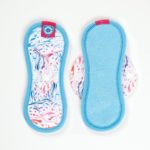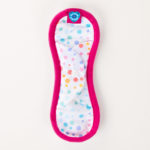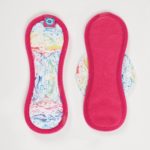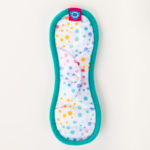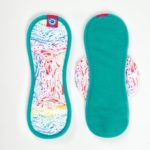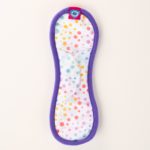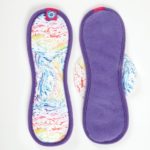 Bloomer Reusable Period Pads – Watercolour collection
£4.75 – £8.75
Add a burst of colour to your pad stash with our new Seascape & Dotty Botty print!
A soft, natural bamboo fibre interior and unique stay-dry binding makes our Bloomer pads super comfy to wear. The towel has a contoured shape which fits naturally and complements the body, helping to avoid bunching and rubbing. A popper fastening keeps the pad firmly in place, giving you the confidence to carry-on with your everyday routine.
Unlike disposables, Bloom & Nora reusable sanitary towels contain no nasty chemicals, making them much better for your health, as well as the planet. They can be washed and reused up to 150 times. What's more, we were the first brand to manufacture all of our waterproof fabrics from recycled plastic; turning waste into something wonderful and saving plastic from landfill.
Description
Mini: Small, compact and perfect for light days or flows. Length approx. 21 cm, holds up to 65 ml.
Midi: For those medium-flow days. Length approx. 26 cm, holds up to 90 ml.
Maxi: Our heavy period pad that's great for overnight. Length approx. 29 cm, holds up to 170 ml.
Mighty: Use for ultra-heavy flows or as postpartum maternity pads. Length approx. 32 cm, holds up to 195 ml.
Key Features:
Contoured slim fit
Stay-dry binding for leak protection
Popper tabs to keep the pad firmly in place
Absorbent core with soft natural bamboo fleece top layer
Contains no nasty substances, just natural fabric next to your skin
Soft waterproof exterior, made from recycled fabric
Fabric Composition:
Surface – Bamboo Fleece
Core – Polyester Microfibre
Exterior – Soft waterproof, made from recycled plastic bottle waste.
Fabric & Care:
No fabric softeners; they will reduce their absorbency.
No harsh stain removers; they may cause irritation and can damage the waterproof membrane.
Wash in non bio at 40 and tumble cool.
Washing Your Pads: Rinse in cold water immediately after use to stop stains setting. Store in waterproof bathroom bag and wash within 48 hours.
Our Guarantee:
Our Bloom & Nora products are covered by our 12-month guarantee, marvellous you say? This covers fabric faults and workmanship for a period of 12 months from date of purchase, though we expect our pads to last up to 10 years. Our guarantee, regretfully, does not cover damage caused to product by:
Using harsh stain removers, biological detergents or bleaching.
Boil washing.
Continually tumble drying on a warm or hot heat, or directly on radiators or similar.
Adding vinegar or sodium bicarbonate to the wash.
Excessive laundering can destroy the waterproofing, make the fabric go bald, reduce the performance of your pads, drastically reduce the lifespan and will render your guarantee void. The pads are designed to catch bodily fluid and over time they may become stained, this is to be accepted and is not a fault.
For goods that we conclude to be faulty we will: Replace or refund. Please contact us for further details.