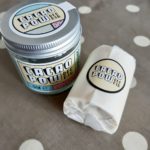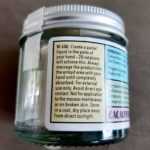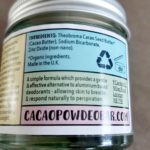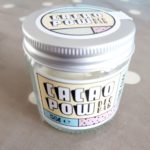 Cacao Pow Deo Bar 55g
£9.99
The First Natural Deodorant Bar In A Jar
Our UK made natural deodorant bar provides powerful odour control and is made with cacao butter which is 100% organic. It's free from coconut oil, palm oil, aluminium and fragrance so it is supernatural!
Powerful Pit Protection
Aluminium Free ✓
Fragrance Free ✓
Cruelty Free ✓
Vegan ✓
Coconut Oil Free ✓
Palm Oil Free ✓
100% Natural Cacao Butter ✓
Gender Neutral ✓
Launch offer 15% off RRP
In stock
Description
Natural Deodorant That Really Works
The Cacao Pow Deo Bar is the first ever natural deodorant bar in a jar. Made with organic cacao butter – certified organic by the Organic Food Federation – this bicarbonate of soda formula packs a punch to deliver powerful pit protection.
We are one of the few natural deodorants on the market that is a coconut oil free formula as well as being palm oil free, aluminium free and fragrance free.
We have eradicated the need for essential oils and instead you can enjoy the amazing aromatics of our organic cacao butter which dissipates into a neutral odour to allow you to be odourless.
How our formula is different?
✓ Our formula is heavy metal free and does not contain silver or aluminium which can be listed as potassium alum.
✓ We are a coconut oil free formula for those who are sensitive to salicylates.
✓ We are also an essential oil free formula, as essential oils contain allergens which can be problematic to some.