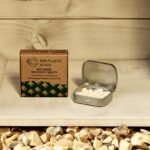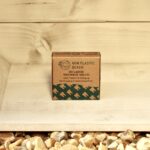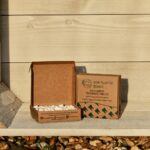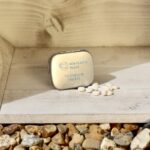 NPB Toothpaste Tablets (various)
£1.95
Non Plastic Beach Toothpaste Tablets:
60 or 240 chewable fluoride toothpaste tablets in a cardboard box with no water and zero plastic, these are perfect for hand luggage, travel and every day use. A tin for storage and traveling is available to purchase separately.
Plastic Free
Recyclable Packaging
Vegan Friendly
Cruelty Free
Contain 1450 ppm Fluoride
Recommended & sold by Dentists & Dental Hygienists
They are used by people all over the world for their everyday toothpaste and by holiday makers, intrepid travelers, explorers and even academic expeditions.
Description
THE WHAT
At last a plastic-free toothpaste with fluoride in it (as recommended by every dentist ever) to protect the one set of teeth you get for life.
We've made toothpaste in dry tablet form, so we don't transport the water & neither do you, making them 100% hand luggage friendly. No more worrying about toothpaste in your bag at airport security, toothpaste stained clothes or a suspiciously "minty" broken laptop/iPad. If you are regular traveller, these will help cut down plastic waste twice over, helping you to avoid the clear plastic bag debacle at the security scanners.
The fluoride toothpaste tablets are made in Berlin, Germany, which means they are made to EU standards and are overflowing with ethical manufacturing and quality certification, which is what we wanted for toothpaste, which is to protect your precious dental health!
The Box: Compostable or recyclable cardboard box with no plastic windows or coatings.
Travel tin (pictured), which fits up to 60 tablets perfectly, can be purchased separately.
Directions for Use: Place one tablet in the front of your mouth, chew it until there are no bits and then brush with a wetted brush as normal. Spit it out as you normally would, but do not rinse your mouth out, leave a coating on your teeth to remineralise them. Simplicity is one reason we like these!
Ingredients: Microcrystalline Cellulose, Sodium Bicarbonate, Silica, Sodium Lauroyl Glutamate, Magnesium Stearate, Aroma (Natural Mint Flavour), Menthol, Xanthan-Gum, Stevioside, Citric Acid, Sodium Fluoride, Eugenol. Contains Sodium Fluoride (1450 ppm)
Manufactured by DENTTABS for Non Plastic Beach.
THE WHY?
Toothpaste tubes are generally made of plastic, often in more than one layer and type, that makes them a nightmare to deal with. There is a very high chance (unless incinerated) that the very first plastic toothpaste tube is still sitting in landfill somewhere.
Obviously with tooth brushing being something that we do twice a day or more, we wanted a convenient solution that was at least as good as regular toothpaste. We looked at glass jars and tins for paste, but the products inside them usually didn't contain fluoride and the supplier could not add it in.
The Fluoride Question In recent years, some people have decided that they don't want fluoride in their toothpaste, having read scare stories about it being toxic! Like many things that are good for you (water, vitamin A to name just two), if you have them in incredibly high doses then you're going to get yourself in trouble. (try drinking 10 litres of water on a normal day and you'll soon see for yourself!) But unless you're going to start devouring entire squeezy tubes of toothpaste as a daily snack, using toothpaste the way it was meant to be will only serve to give you glistening pearly whites.
Fluoride is undoubtedly fantastic for your teeth and found in toothpaste, mouthwash and added to some drinking water. Even if you use all three, you will not get a harmful dose, but you might ensure you earn your sticker next time you visit the dentist.
Further reading on fluoride can be found below if you don't believe the people who are selling something with it in… From a personal point of view, we use fluoride products and always have. We have also consulted with friends who are variously in the medical profession and university lecturers in biochemistry and they universally use fluoride products for themselves and their children. That is good enough for us.