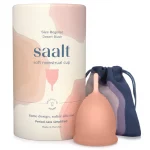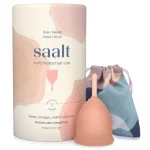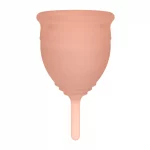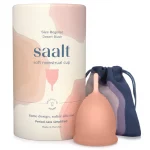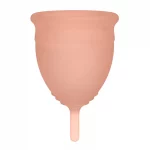 Saalt SOFT Menstrual Cup Desert Blush
The Saalt Soft Cup is made with an ultra-soft silicone formula designed to be both gentle and super comfortable for those with bladder sensitivity, cramping or discomfort with firmer cups. They are made from 100% medical grade silicone with a velvety soft finish.
It is worn internally like a tampon, but collects' rather than absorbs' your period.
Once your cup is filled, you simply empty, rinse, and reinsert the cup for up to 12 hours of protection. Better for your body and the planet. Ready for your zero-waste period?
Need a smaller cup? Check out the Saalt Teen Cup.
Description
BPA free
Latex free
Toxin free
Vegan & cruelty free
FDA registered and compliant
Includes one cup + one carry bag.
For hygiene reasons, Saalt products are not eligible for returns, refunds, or exchanges.
Saalt offers menstrual cups in three sizes (regular, small, and teen). The small and regular sizes are available in two firmness levels (the original firmness Saalt Cup and the softer Saalt Soft), and our Teen Cup firmness is right in between. Many people can wear either size or firmness comfortably, but one may be more comfortable.
Size guide: 
Regular: normal to heavy flow; high-capacity; high cervix
Small: Light to normal flow; first time user & 18yrs and older; low cervix
Teen: Light to normal flow; under 18yrs or petite physique; low cervix
Other considerations:
Teen/petite physique:

 If you're a younger person or very petite, you may consider starting off with a teen cup.
Vaginal insertion: If you haven't comfortably inserted anything in your vagina before, we recommend the size small.
Childbirth: If you've carried a pregnancy to term, you may prefer the size regular.