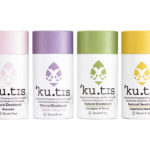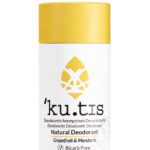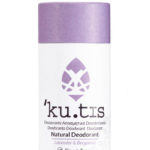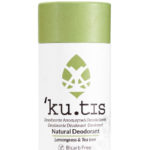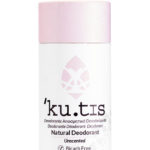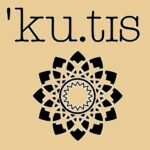 kutis Bicarb Free Deodorant
£6.50
Introducing our new bicarb free deodorants.
Made with all the finest, well sourced ingredients, our bicarb free deodorant is 100% natural.
Available in 3 of our most popular scents – Lemongrass and Teatree, Lavender and Bergamot and Grapefruit and Mandarin.
We also have a unscented version for those who are extra sensitive.
Browse the rest of the Kutis range here.
Description
Lavender and Bergamot
Maranta Arundinacea Root Powder (arrowroot powder), Cocos Nucifera Oil** (coconut oil), Theobroma Cacao Seed Butter (cocoa butter), Magnesium Hydroxide, Helianthus Annuus Seed Cera (sunflower seed oil), Lavandula Angustifolia Flower Oil (Lavender), Citrus Bergamia Peel Oil Expressed (Bergamot), Linalool*, Limonene*
Grapefruit and Mandarin 
Maranta Arundinacea Root Powder (arrowroot powder), Cocos Nucifera Oil** (coconut oil), Theobroma Cacao Seed Butter (cocoa butter), Magnesium Hydroxide, Helianthus Annuus Seed Cera (sunflower seed oil), Limonene*, Citrus Grandis Peel Oil (Grapefruit) Citrus Limon Peel Oil (Lemon), Citrus Aurantium Dulcis Peel Oil (Sweet Orange), Piperita Oil (Peppermint), Citrus Nobilis Peel Oil (Mandarin), Citral*, Linalool*

Lemongrass and Tea tree
Maranta Arundinacea Root Powder (arrowroot powder), Cocos Nucifera Oil** (coconut oil), Theobroma Cacao Seed Butter (cocoa butter), Magnesium Hydroxide, Helianthus Annuus Seed Cera (sunflower seed oil), Melaleuca Alternifolia Leaf Oil (Tea Tree), Lavandula Angustifolia Flower Oil (Lavender), Cymbopogon Schoenathus Oil (Lemongrass), Citral*, Linalool*, Limonene*, Geraniol*
Unscented  
Maranta Arundinacea Root Powder (arrowroot powder), Cocos Nucifera Oil** (coconut oil), Theobroma Cacao Seed Butter (cocoa butter), Magnesium Hydroxide, Helianthus Annuus Seed Cera (sunflower seed oil)
**Organic Ingredient
*Naturally occurring components in essential oils